K-12 Shipping Chart

Deliveries are shipped prepaid, with the net freight charges added to the invoice at the time of shipment (see map below). Residential deliveries are subject to additional FedEx residential delivery charges.
Find your state on the map below. The numbers on the map refer to the approximate cost and average number of days to ship Ground. These prices can be used for all Price List Items.
Please note that shipping prices are estimates, only. For a more accurate estimate - vist our Quick Quote page or contact us.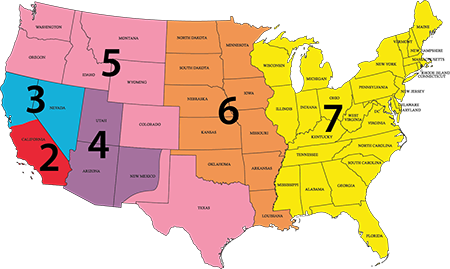 Note: Some zip codes may overlay into the next zone.
| | | | | | | |
| --- | --- | --- | --- | --- | --- | --- |
| QTY | 2 | 3 | 4 | 5 | 6 | 7 |
| 250 | 15.00 | 17.00 | 19.00 | 22.00 | 27.00 | 31.00 |
| 300-500 | 27.00 | 32.00 | 36.00 | 45.00 | 55.00 | 62.00 |
| 550-750 | 41.00 | 49.00 | 53.00 | 66.00 | 81.00 | 95.00 |
| 800-1000 | 55.00 | 66.00 | 71.00 | 87.00 | 108.00 | 125.00 |
| 1050-1500 | 67.00 | 83.00 | 87.00 | 103.00 | 129.00 | 151.00 |
| 2000 | 88.00 | 109.00 | 112.00 | 137.00 | 171.00 | 201.00 |
| 2500 | 111.00 | 137.00 | 142.00 | 170.00 | 215.00 | 251.00 |
| 3000 | 134.00 | 164.00 | 169.00 | 206.00 | 258.00 | 300.00 |
| 5000 | 219.00 | 271.00 | 284.00 | 341.00 | 429.00 | 499.00 |